As adventure sports, freeriding and heli-skiing required  special attention to hazards and strict adherence to safety rules. When it takes place in a mountain environment, it's essential. Our UIAGM certified guides are  experienced mountain professional who will continuously accompany you.
Mountain Guides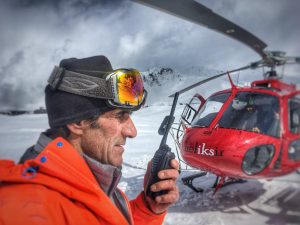 Heliksir guides are chosen based on their professional qualifications and dedication to safety. They are internationally certified mountain guides; their formal training and extensive experience guarantee a high level of expertise in mountain guiding, backcountry skiing, avalanche forecasting and emergency response.
Members of our guiding team have accumulated years of experience working in different parts of the world. They are dedicated to providing you with a safe and unique powder adventure. 
Occasionally, we have other guides working with us to complete the guiding team. They are
also highly trained and hold a mountain guide certification from the national institution of their
respective country. This certification is a guaranty of professional competence and compliance
to the guiding industry standards.
An IFMGA Mountain Guide is a professional whose competence has been certified by a
national institution which is also accredited by the International Federation of Mountain Guides
Associations. The Georgian Mountain Guide Association has been accepted as candidate to
join the IFMGA and is in the process of obtaining its international accreditation.
Helicopters and pilots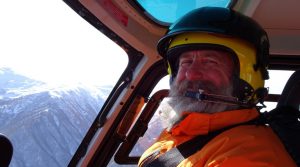 We use Eurocopter A-Star B3 helicopters from Europe. The A-Star B3 is a light weight and powerful helicopter that excels at high altitude and is ideally suited for small-group heli-skiing, with a seating capacity of 5 passengers (four guests and one guide) plus the pilot. The helicopters are inspected and serviced on a daily basis by licensed aircraft maintenance engineers. Pilots are highly qualified pilots from Europe, with extensive mountain flying experience.
Mountain Safety
Our guides and pilots are certified to the highest levels in their professions to provide you with a safe and outstanding day. Every morning they attend a comprehensive meeting where they discuss weather, flying conditions, snow stability and terrain selection in order to determine the safest operational plan for the day. Out in the field, they maintain constant radio contact with each other, as well as with our base station through a radio repeater system. This ensures quick and efficient response in the event of an emergency.
Safety Briefings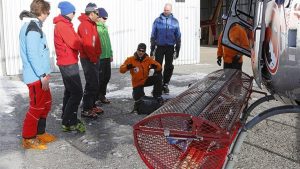 At Heliksir, we believe it is important for our guests to be fully aware of the safety issues involved in heli-skiing / heli-boarding, and to have a thorough understanding of the environment they will be exposed to. Before their first flight out to the backcountry, all guests are required to attend safety briefings highlighting awareness of risk, best practice guidelines and emergency procedures in the event of an accident. Each guest will be trained in the use of an avalanche transceiver and other safety equipment.
Avalanche Safety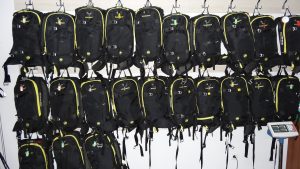 Our professional mountain guides are trained to assess and manage avalanche risk. They monitor the avalanche conditions on a daily basis, gathering data through snowpack analysis and weather observation, in order to evaluate the snow stability and make guiding decisions accordingly. They make every effort to minimize the risks and keep you from exposure to potential hazards.
We provide each guest with state-of-the-art safety equipment, including:
Mammut Barryvox Pulse avalanche transceiver
Mammut Rocker 15L Protection Airbag backpack
Mammutavalanche probe light
Mammut Alugator avalanche shovel light
Following is a list of gear we provide at no extra charge, as well as recommendations for the equipment you need to bring.
Mammut Rocker 15L Airbag
The Roker 15l Airbag is small in weight and huge when it comes to functionality. The under-2-pound light-weight flip provides everything a professional airbag needs while offering space for freeriding.
Mammut Pulse Barryvox Transceiver
The Mammut Pulse Barryvox is a small, three-antenna, avalanche transceiver with a long range. It offers both analog and digital modes, provides feature-rich handling of multiple burials, handles spikes well, has a floating direction arrow that indicates minor changes in direction as well as points behind you, and has excellent audible indication.
Mammut Shovel Alugator Light
Lightweight shovel made from hardened and anodized aluminum. The triangular-shaped shaft of the Avalanche Shovel Mammut Alugator Light absorbs torsional forces ideally and offers good grip.
Mammut Probe Light
The Mammut Avalanche Probe Light weighs a mere 3.4 oz and still gives you a full 240 cm-reach into a deep snowpack. Mammut's single-pull locking system works great even with gloves. 
Blizzard or Dynastar Skis
At Heliksir, we provide our guests with a choice Blizzard or Dynastar  skis and poles specially adapted for deep snow skiing.
What you need to bring
Ski boots
As everyone has unique requirements, Heliksir does not supply boots; please, bring your well-fitted  bootswhen you come heli-skiing with us. We recommend having this important footwear in your carry-on baggage when traveling by air; this will ensure your boots don't get misplaced and lost during your travel.
Ski helmet
Most importantly for heli-skiing, your helmet should not hinder your hearing as it is essential for safety that you can hear your guide's instructions. Removing your helmet's ear flaps might be necessary. For keeping your ears warm, you can wear a thin balaclava underneath the helmet. If you choose to wear a helmet while heli-skiing with us, please bring your own; Heliksir does not supply helmets.
Clothing
Clothes you wear in a ski resort may not be optimal for heli-skiing. While insulated jackets and pants are great at the ski area, they don't allow enough versatility for heli-skiing. The helicopter is your ski lift and it is heated. There is no need to overdress in order to withstand cold chairlift rides. However, you want to dress so you are comfortable when skiing / boarding and stay warm during the occasional waiting around. The most effective way to achieve that is to wear layers of clothing which allow you to adjust your temperature and keep dry.
The Adventure of a Lifetime, make sure you book with Heliksir!
Interested in booking a package?
Stay tuned for the latest news and deals