Territory: 69,700 sq. km
Government: Democratic presidential republic
Official language: Georgian
Religion: Orthodox Christianity
Population: 4,497,600 people
Currency: lari (GEL) = 100 tetri
Georgia is situated at the intersection between West and East – the fact that made the country absorb a great variety of cultural and religious traditions. First state entities appeared here in the 12th-8th centuries BC. The kingdom of Kolkhis is mentioned as a state as early as in the 1st century BC.
Georgia has been a Christian state since 326. It has had to struggle for keeping its territories, statehood, language, faith and traditions throughout its existence and this struggle continues.
Georgia's nature is very diverse. This small country offers a surprisingly great variety of climatic zones and terrain as well as tourist attractions. These are the mountainous regions of Khevsureti and Svaneti – sites of pristine nature where ancient lifestyle has been retained virtually to this day. There is Ajaria with its majestic Black Sea coast, an ancient cave city of Vardzia on the border with Turkey, the Kakheti region with its Alazani river valley that produces excellent wine – it is hard to list it all, you have to see it with your own eyes.
Georgians truly love, appreciate and honor their country and traditions. This is a country where even a small child is familiar with the concept of "guest is sent by God". This means that a Guest is God's envoy and one should be happy to share with him the last of what one has. Georgia's unique character, its nature, culture, people, folklore, food, water and even air have always charmed and keep charming travellers, including such great names as Marco Polo, Alexandre Dumas, Alexander Pushkin, Vittorio Sella, Gustave Eiffel, Henri Cartier-Bresson, Knut Hamsun, John Steinbeck, Robert Capa and hundreds of others.
Georgia, as a cradle of ancient civilization, is of interest to many researchers from various fields: to linguists – Georgian language is one of the oldest languages on the planets still actively used – a living language with about 5 m people speaking it. There is an opinion that Georgian has not changed for over 1,200 years.
To archaeologists: Georgia is listed among the sites where the oldest monuments of human civilization were discovered and is considered a place of origin of metallurgy.
There are many Christian shrines dating back to 6th-9th centuries on the territory of the country. They are visited by thousands of tourists each year.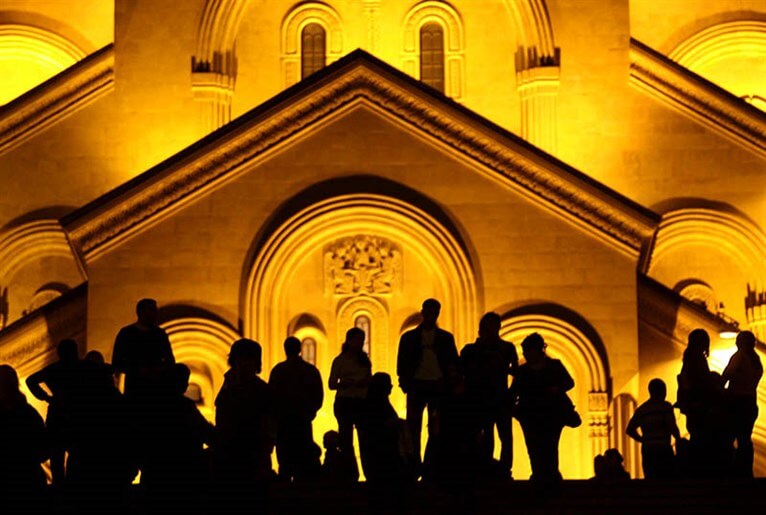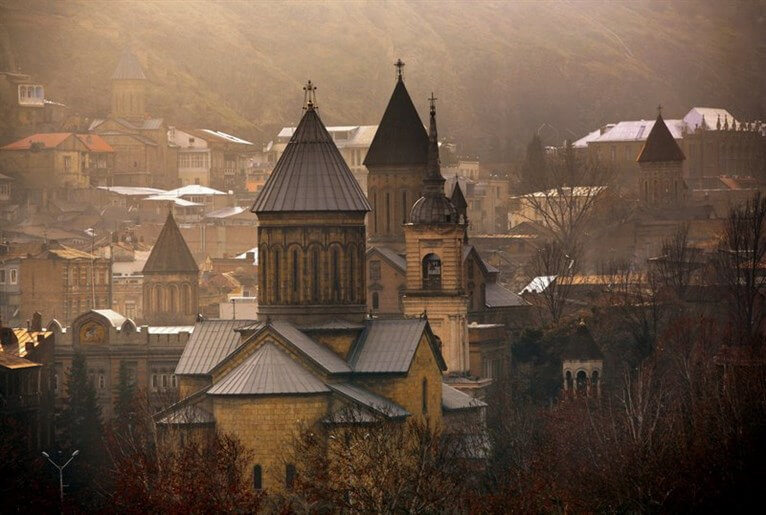 Tbilisi – Capital City of Georgia
Tbilisi is a city where antiquity and modernity, Asia and Europe, East and West, hills and plains, wealth and poverty, sorrow and joy, ancient traditions and latest trends co-exist, intertwine and complement each other. This is first and foremost a city for living that belongs to people of various ethnic origins.
The first mention of Tbilisi (Tiflis) dates back to 386 and, since then, the city has been going with the times. Tbilisi has always been a modern city, even in the days when merchants came with camel caravans along the Silk Road and stayed in caravanserais that are still here – full of trendy cafes and galleries and hosting haut-couture shows. Tbilisi has always been a multiethnic, boisterous city with a multitude of languages spoken, with people communicating by shouting from little balconies, playing backgammon outside the houses, eating delicious food, drinking large quantities of wine and loudly singing their songs…
Once in Tbilisi, you will realize that this modern European city has managed to retain its spirit. The whole history of Tiflis is right there in front of you thanks to the old city's architecture: typical curvy streets with old houses and unique wooden balconies, Turkish baths, an Armenian church, a synagogue, Orthodox Christian temples, European-style shopping arcade on Jean Chardin Street, Italian architecture of theaters, houses of manufacturers and patrons of arts with remarkably decorated entrances, the Russian Viceroy's Palace, the Stalin era architecture and new buildings that form a congruous picture of a modern city.
In addition to all that, everywhere you go you will meet friendly, joyous, tastefully dressed people who know how to enjoy life.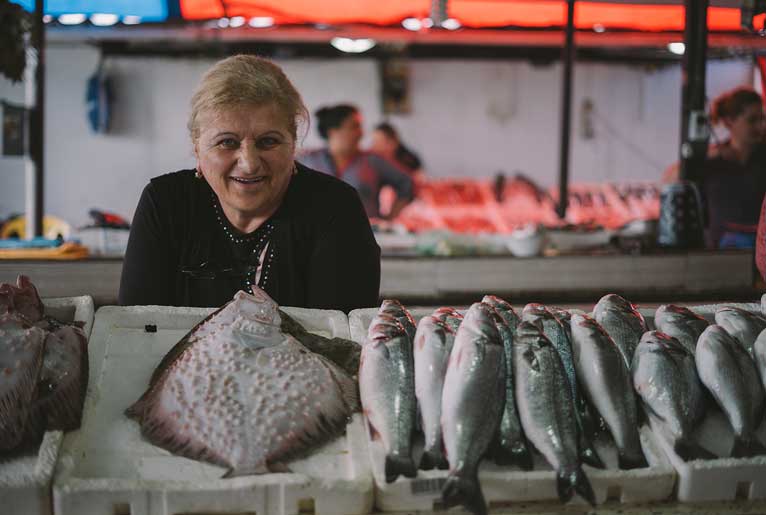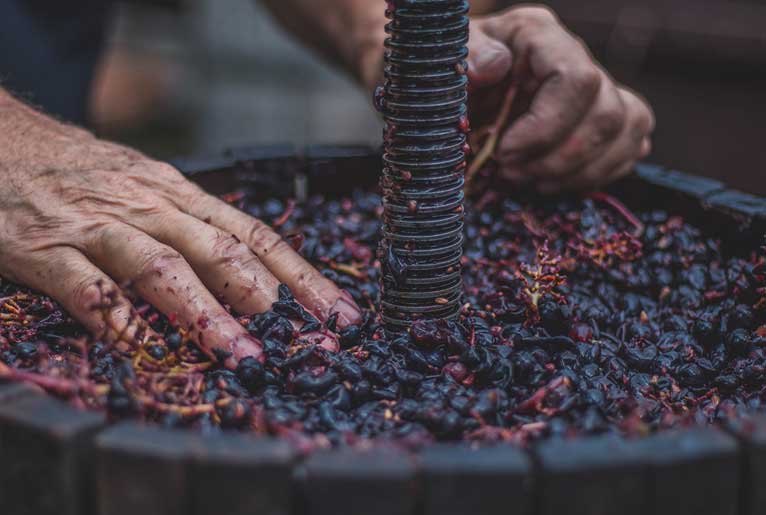 No story about Georgia would be complete without mentioning Georgian cuisine: feast is one of the main types of entertainment in Georgia. The food on a table is a show of affluence and generosity, a sign of full life.
Georgian Cuisine
No story about Georgia would be complete without mentioning Georgian cuisine: feast is one of the main types of entertainment in Georgia. The food on a table is a show of affluence and generosity, a sign of full life.
As a rule, there is a plethora of small plates on the table during a feast and the variety of dishes is stunning!
First and foremost, the appetizers – a variety of pkhali made from fried and boiled vegetables (eggplants, beans, spinach, beetroot), seasoned with crushed walnuts, vinegar, herbs, garlic and spices. Pkhali represents variations of similar dishes with unique taste – small masterpieces of the Georgian cuisine that are a perfect match with mchadi (maize bread) and sulguni cheese or guda – sheep milk – cheese.
Then come fish and meat dishes, including trout, catfish under coriander and vinegar sauce, satsivi – chicken or turkey under walnut sauce, chkmeruli – fried chicken under garlic sauce on a clay pan. Spring brings a remarkably aromatic dish – chakapuli made from lamb or veal boiled in white wine with fresh herbs, tarragon and green tkemali (kind of plum). And, of course, tomatoes, cucumbers, radish and plenty of fresh herbs – one cannot list them all…
The food at the feast is washed down by quite an amount of wine. Not to worry – Georgian cuisine also offers ways to deal with a hangover the next morning: special establishments called sakhashe are open from 6 A.M. until 11 A.M and offer khashi – a nourishing soup made of a cow's legs and intestines. The soup comes with 50 grams of chacha. You can also opt for juicy meat dumplings called khinkali. Your hangover will be gone completely if you finish your morning by going to the sulphur baths and ask an experienced bath attendant to give you a good rub!
Welcome to Georgia!
Grape wines are the timeless basis of the economy, everyday life, worldview and character of the Georgian people.
– Proverbial wisdom
Georgia – A Cradle of Winemaking
Georgia is considered one of the main sites where vine had first appeared and a homeland of the winemaking culture. Jars with the remains of grape seeds and winemaking tools, such as stone mashers and various vessels made of clay and metal, were discovered on the territory of Georgia during archaeological excavations of the Bronze Age layers. These items date back several thousands of years. The love of the Georgian people for the vine is reflected in legends, ancient tales and songs. Even the cross that features in the adoption of Christianity by Georgia was made of vine – a symbol of unity of the people's faith and the national treasure.
Kakheti in the eastern part of Georgia is the main wine-growing and viniculture region of the country. Alazani Valley is the most famous wine-making part of Kakheti – its fertile soil, mild climate, the abundance of water and woods, diversity and richness of nature make the well-known Kakhetian valley a truly sacred place for each Georgian and a real cradle of noble grape wine.
The best-known white wines of Georgia are Tsinandali – the king of white wines, pride of Georgian wine-makers with a remarkable fruity bouquet and a subtle, delicate flavor, and Mtsvane – natural dry white wine, straw-colored with a fresh and balanced taste. Red wines include Saperavi, Kindzmarauli, Mukuzani and Khvanchkara – high-quality natural wines of intensive dark-red color and strong bouquets corresponding to their variety.
Price Guide
Every traveller plans the budget of his or her trip – a combination of costs of lodging, meals and transportation.
Here is some relevant information about the prices:
Transport. A taxi ride from the airport to the center of the city will cost 25 – 30 lari. Trips within the central parts of the city will cost around 4 lari going up to 6-8 lari when riding further away from the center. Public transport: a metro or bus ride costs 50 tetri, a fixed route taxi (a marshrutka minibus) – 80 tetri.
Lodging. Tbilisi can accommodate any taste or budget: from affordable hostels and guesthouses (from 15-20 lari per night) to apartments (from $40-50 per night for a studio in the center) or hotels (from $50 per night). Choose whatever works best for you. Useful websites that can help you find a place that suits you best in Tbilisi:www.airbnb.com, roomorama.com, hostelworld.com

Cafes and restaurants. There is an abundance of places in Tbilisi that offer delicious and cheap food and a cozy atmosphere. A dinner for two without wine will cost around 20-30 lari.
Wine. Wine in restaurants costs 2-5 lari for a glass of white and 5-8 lari for a glass of red. In stores, the price of a bottle of white starts from 9 lari, a bottle of red – from 15 lari. It is advisable to buy wine in special wine shops where you will be offered to taste wine before you buy it and can ask for assistance when choosing.
Beer. In restaurants, 0.5 liters costs between 2 and 8 lari, in stores – between 1 and 4 lari.
Sightseeing, museums. Museum tickets cost between 1 and 5 lari. Tbilisi has many cultural institutions: there are 18 museums and 9 theaters in the city.
There is a network of tourist information centers, banks and ATMs in the capital as well as many medical aid centers.
Testimonials
"Whenever we had been in Russia, in Moscow, in the Ukraine, in Stalingrad, the magical name of Georgia came up constantly. People who had never been there, ad who possibly never could go there, spoke of Georgia with a kind of longing and great admiration. They spoke of Georgians as superman, as great drinkers, great dancers, great musicians, great workers and lovers. And they spoke of the country in the Caucasus and around the Black Sea as a kind of second heaven."

– John Steinbeck, 1947
Interested
in other heliski
programs and prices?
** If you are interested in other options of our classic heliski programs and prices (packages without accommodation and / or other services), please, contact us and we will find the solution.
.
Stay tuned for the latest news and deals