Gudauri, Georgia is just a 2-hour drive from the international airport of Tbilisi, Gudauri is the leading ski resort in Georgia. Nestled in the southern slopes of the Greater Caucasus range at an altitude of 2,000 m above sea level, this friendly and actively developing resort has become the most popular ski destination in Georgia, attracting snow enthusiasts from neighbouring countries and Western Europe. Gudauri sits in the heart of a magnificent alpine countryside offering vast snowfields, an abundant snow cover and plenty of sunshine.
The on-going infrastructure development and the touristic dynamism of the resort make it the most technically advanced district in the Caucasus for alpine skiing, at the present time. Spreading over the slopes of Mt Kudebi (3,007 m) and Mt Sadzele (3,307 m), the runs are above tree-line and serviced by 5 Dopplemayr chairlifts and one Pomagalski gondola lift. Part of the dynamic development occurring in Gudauri, the gondola lift was recently installed, with its base at the heart of the new resort centre. The impressive MULTIX-10 lift carries 72 cabins of 10 passengers and brings the skiers to an altitude of 2,700 m.
Gudauri Ski Resort
Gudauri Ski Resort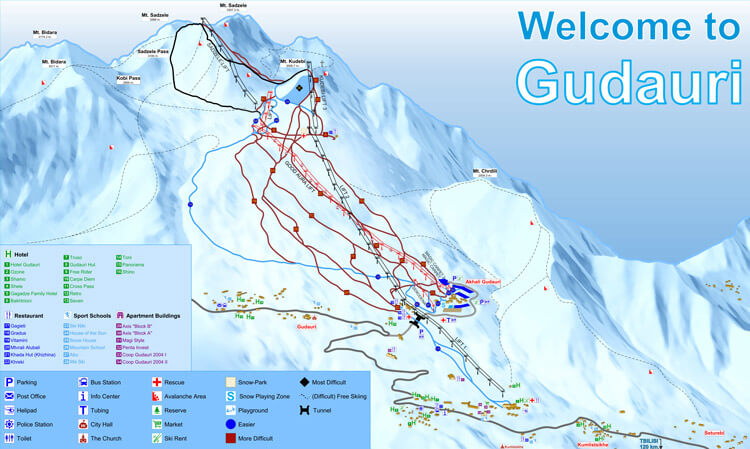 Runs and off-piste areas
Gudauri has a total of 22 prepared runs, providing:
30% easy terrain
55% intermediate terrain
15% advanced terrain
In addition, there are challenging off-piste areas easily accessible for the expert freeriders.
Ski lifts open at 10 AM in the mornings, and close at 4 PM (weekdays) or 5 PM (weekends). During the hours of operation, there are several cafes and bars available on the mountain; they are the perfect place for you to rest and enjoy a meal, a snack or a drink, between runs.
The resort also features a Terrain Snowpark open every day during the hours of lift operation.
For the after-ski in the village, there are several bars and restaurants where you can find a full selection of drinks and enjoy delicious Georgian meals. Billiards table are also available in some of the hotels and bars.
On Friday and Saturday nights, music and dance enthusiasts will have great fun at the Marco Polo Night Club which features popular DJs and a stylish lounge bar.
The hotel Marco Polo also offers many recreational facilities including: a spa area with indoor swimming pool, jacuzzi, sauna and massage clinic, as well as game rooms where you can play billiards, tennis and table tennis (additional cost applies for some activities).
Want to see by yourself?
Contact us to choose a package and plan your vacation
Stay tuned for the latest news and deals