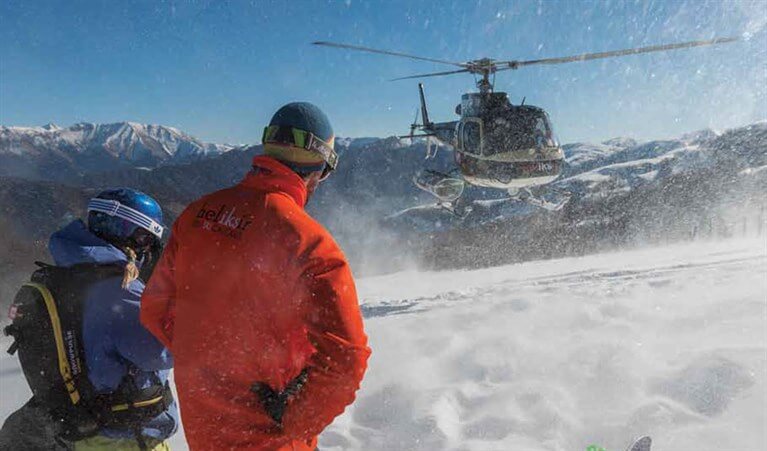 As we crouch on the mountainside, the helicopter comes in to land inches from our huddle, the force of the rotor blades coating us in snow. Our mountain guide has dug a snow trench the size of a bath, just big enough for the helicopter skid tips to rest in. With the blades still churning, we load our skis, jump aboard and lift off across the peaks of Georgia. The next powder field awaits.
This is the Greater Caucasus, a mountain range extending from the Black Sea to the Caspian, with the Republic of Georgia spread along its length. Sandwiched between Russia and Turkey, Georgia has a language, culture and cuisine entirely distinct from its neighbours, and a trump card few have discovered: unrestricted heli-skiing – helicopter access to a realm way beyond the reach of a ski lift.
From the Emirates, a three-hour flight takes you to the Georgian capital Tbilisi, an ancient city enclosed by hills and well worth a one-day walkabout. The Nariqala Fortress and Mother Of Georgia statue loom above the old town on a cliff top, a maze of quaint houses clinging to the hill below. Medieval churches jut from the terracotta rooftops, still drawing Orthodox crowds even as bold, modern buildings spring up alongside. If you're not averse to the whiff of egg, have a soak in the sulphur baths – healing or not, Georgians have sworn by these waters for nearly 2,000 years.
Next stop is Gudauri, a small ski resort two hours by car from Tbilisi, and the launch pad to boundless powder snow. At an elevation of 2,196 metres, Gudauri sits above the tree line with acres of open off-piste – ideal for finding your feet before you heli-ski. A day or two skiing at resort level will acclimatise you to the altitude. Groomed pistes total 30 miles, with a network of blue runs, three red runs and two black runs at the highest resort altitude (3,100 metres).
Once you're feeling attuned, you'll be ready for the real fun. Local heli-ski operator Heliksir runs one- to six-day heli-ski packages, with state-of-theart helicopters and safety kit, highly qualified Swiss pilots and ski guides certified by UIAGM (Union Internationale des Associations de Guides de Montagnes). Your playground is 800 square miles of ski-able terrain, with high peaks, alpine bowls and deep valleys all blessed with regular snowfall. With fresh snow and blue skies, you may have the best skiing of your life.
At 8am you meet at the hangar. Proceedings begin with a safety briefing, from helicopter dos and don'ts, to avalanche procedure. The Heliksir team monitors avalanche conditions daily, evaluating stability through snowpack analysis and making guiding decisions accordingly. The walls of the Heliksir office are plastered with enough charts to make a physicist dizzy, each one defining the avalanche risk at a specific point on the mountain. Nothing is left to chance.
In the unlikely event of an avalanche, each skier is armed to the teeth with transceiver, probe, shovel and airbag backpack, a smart device that inflates around you when a cord is pulled. Your guide will explain the apparatus in depth. The lives of the group – including his – may depend on it. Once buried in snow, an avalanche victim has 20 minutes to escape, a sobering thought as you buckle up for the first ascent.
Any nerves will vanish once you're airborne. There is something euphoric about taking off in a helicopter, this nimble pod that bobs in the air. Your ride is a Eurocopter A-Star B3, a light, powerful machine ideal for high altitude, with seating for five passengers, plus a pilot. Buzzing over the mountaintops, you'll leave roads, homes and humanity far behind.
The destination is a ridge at around 4,000 metres, falling away on each side to sweeping white valleys. Here you disembark, retrieve your skis from a cage on the fuselage, and watch the chopper purr off to a dot. Before you is the view every powder hound dreams of – a blank canvas waiting for those thin ski squiggles. Following the guide, you drop into the valley and link silent turns in the snow. This is what you came for.
Despite the intrepid reputation, anyone confident skiing or snowboarding off-piste can take the next step to heliskiing. The guides at Heliksir will tailor the pace and routes to the group's skill level, and off-piste newbies can take a oneday powder skiing course in the resort before taking to the skies. You'll never ski a groomed run again.
When to go: January to March
How to get there: Flydubai operates direct flights to Tbilisi. flydubai.com
Where to stay: The four-star Marco Polo Hotel has clean, comfortable rooms and the closest the resort gets to an après-ski scene. On-site activities include indoor tennis, table tennis, bowling, pool, Russian billiards, air hockey, table football and Xbox. The hotel spa offers massages (classic, sports and relaxing), as well as an indoor swimming pool, Jacuzzi and sauna. The main restaurant serves tasty Georgian food and wine – don't miss the hot khachapuri cheese bread – and the small nightclub attracts a crowd at weekends. The stylish interiors are the result of a refit in 2012.