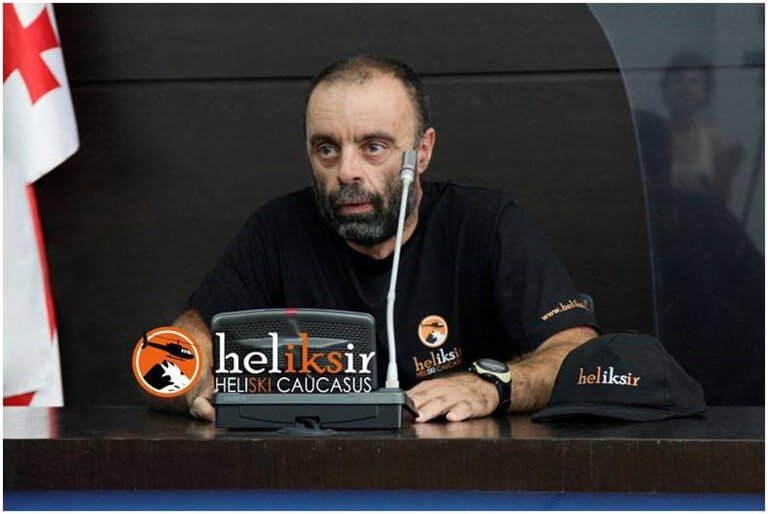 On July 30, in the Ministry of Sport and Youth Affairs of Georgia, Georgian mountaineer Bidzina Gujabidze held the press conference and spoke about the upcoming expedition. Together with Mr. Gujabidze,  Deputy Head of the Sports Department Goga Asatiani, responded to various questions from the media.
The expedition is taking a start on July 31. The initial target of the expedition is Khan Tengri – one of the mountain peaks of Tian Shan mountain range, located in the South region of Engilchek. Bidzina Gujabidze has climbed the 7,010 meter high peak over 10 times. It should be noted that on one of the climbing took Bidzina only 15 hours to top and back . Last time the Georgian mountaineer ascended Hantengri Peak was in 2005.
This time, Khan Tengri expedition is going to be a preparatory climbing before the Himalayan Expedition, which is taking a start on 5 September.
That is exactly why, for the successful completion of this expedition in Tian Shan, Bidzina Gujabidze together with English, Kyrgyz and Azerbaijan colleagues (there is a possibility of increasing the number of participants and countries as well), is planning to stay overnight to acclimatize on the Hantengri Peak.
Expedition in Tian Shan will continue until the beginning of September. On September 5, Bidzina  Gujabidze is flying from Bishkek to the Himalayas, where he gives a try to ascend the peak of Manaslu mountain. Up to date, Bidzina had two attempts, in 1998 and 2009, to climb  the 8156-meter-high peak, though both of them were unsuccessful.
Bidzina Gujabidze`s both Tian-Shan and Himalayan expeditions are funded by Heliksir.
Brief biographical data:
Date of Birth: 20.01.1960
Profession: Engineer
Marital Status: – Married, 5 children and 2 grandchildren
Till present, Bidzina Gujabidze has ascended over 300 peaks in different parts of the world. Out of those peaks, 6 were 8,000 meter high peaks including 2 successful Mount Everest expeditions.
PR Division, Ministry of Sport and Youth Affairs of Georgia (MSY)
30.07.2014