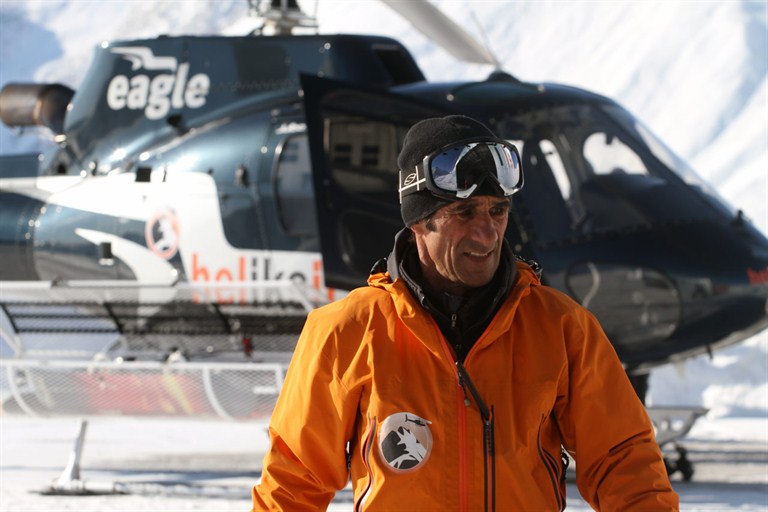 Dear friends!
As a mountain guide, I've had the great satisfaction of guiding and teaching snow enthusiasts in the backcountry for over 30 years. During all these years, while leading heli-sking or ski touring trips, I've had the pleasure to witness thousands of guests from all over the world enjoy their experience in the powder snow. I have also watched with great interest the evolution of skiing and snowboarding, and particularly the trend, in recent years, towards off-piste skiing and free-riding. Today, wider skis and specifically shaped boards float better in powder snow; this new equipment makes it easier for the average-skilled snow enthusiast to learn powder skiing /riding. With this growing free-skiing / free-riding movement, more and more skiers / snowboarders are venturing in the backcountry every winter in search of powder adventure.
With the following presentation, my goal is to help first timers get on the right track and enjoy the magical powder experience in a safe manner. The avalanche information contained in the presentation is intended to introduce inexperienced winter enthusiasts to the basics of avalanche hazard and the concepts of avalanche risk management; this information is no substitute for proper avalanche training and experience.
Daniel Bonzi
ACMG / UIAGM Mountain Guide
Member of the Canadian Avalanche Association
The powder dream
For years, ski films have shown world-class skiers and snowboarders flying down spectacular slopes, charging effortlessly through amazing powder snow, enjoying great moments of pure pleasure and complete freedom. Obviously, this has brought a great deal of interest and excitement among snow enthusiasts, all over the world; however, if you are an average skier or snowboarder, it could also be intimidating, and you may wonder what this powder fantasy would be like at your level. Well, imagine yourself going down a pristine slope of glistening, fluffy snow, making graceful turns with a wonderful feeling of lightness, a sensation of floating through space… this is the magical experience one gets when skiing or snowboarding in the powder! And yes, any passionate skier or snowboarder can make this fantasy become a reality. You too can enjoy the sublime experience of powder skiing!
What exactly is powder snow?
What we call powder is the light and fluffy snow accumulated on top the snowpack after a snowfall.
The lightness of that new snow depends on several factors; among them, temperatures, humidity and winds (or absence of wind) are the most important. The "champagne powder", so highly prized by skiers and snowboarders, is made of dry snow formed high in the atmosphere, fallen at cold temperatures and in the absence of strong winds. Depending on the intensity and duration of the storm, powder snow can sometimes accumulate to a layer of stunning thickness.  In the absence of wind and warmer temperatures, the new fallen snow does not undergo significant compaction naturally and can stay in its original lightness for days.
How difficult is powder skiing?
Well, you don't have to be an expert free-rider to powder ski. Provided you can to link parallel turns at moderate speed on groomed slopes, with some good pointers from a pro and the right skis you can certainly enjoy powder skiing! Proper powder skis are definitely recommended as the design is specifically adapted to the floating required in deep snow; using your regular shaped skis in powder would be much harder, so make it easy for you and find yourself a nice pair of soft, fat skis.
For an apprentice, deep powder snow could be frustrating at first. Here, the snow is not packed, the firm surface you usually feel under the skis (or snowboard) on groomed slopes is missing; instead of resting on the surface of the snow, your skis/snowboard now sink and disappear into it! If this is your first time in fresh unpacked snow, you probably feel unstable and insecure… but as you acquire the proper technique, this new environment becomes friendlier, easier to deal with, and soon you can truly enjoy it!
How much different is it from regular piste-skiing?
Skiing in deep snow is actually quite easy; however, it requires modifying the technique you normally use on groomed slopes. The first vital adjustment to make is to create a "two-ski platform" by weighting both skis equally and keeping them together; this will avoid having one ski sinking deeper than the other into the snow, which leads to the classic spinning fall novices often experience. Secondly, it is essential also that you maintain your center of gravity balanced over the middle of the skis to keep the skis floating and to control your speed. A body position too far forward will have the ski tips dive into the snow, which often leads to the infamous "face plant". Sitting back, with the ski tips way out of the snow fatigues your thighs and does not allow for good control of the skis. Thirdly, due to the depth and resistance of the snow, skis react more slowly; in the powder, a good speed is essential, however turns are achieved by smooth, slow-motion maneuvers.